Performance Engineered | Sustainably Designed
Malarkey Roofing Products® offers a family of shingle products designed with a goal of sustainability in focus through each step of the product's life cycle. From a shingle's manufacture to the end of its service life, Malarkey shingles are created for superior performance, reliability, and limited impact on the environment.
Malarkey worked with the Asphalt Roofing Manufacturers Association (ARMA) to complete an Environmental Product Declarations (EPD) focused on steep and low slope roof systems. An EPD is a standardized way to understand the sustainable qualities of a product and its environmental impact over time.
In the roofing business since 1956, Malarkey Roofing Products® is a company perpetuated by the success and foresight of previous and current generations. With a keen ability to innovate, the company has advanced modern roofing materials by engineering solutions to common roof problems. Today, Malarkey is dedicated to keeping its roofing materials out of the waste stream and preserving the quality of life on our planet.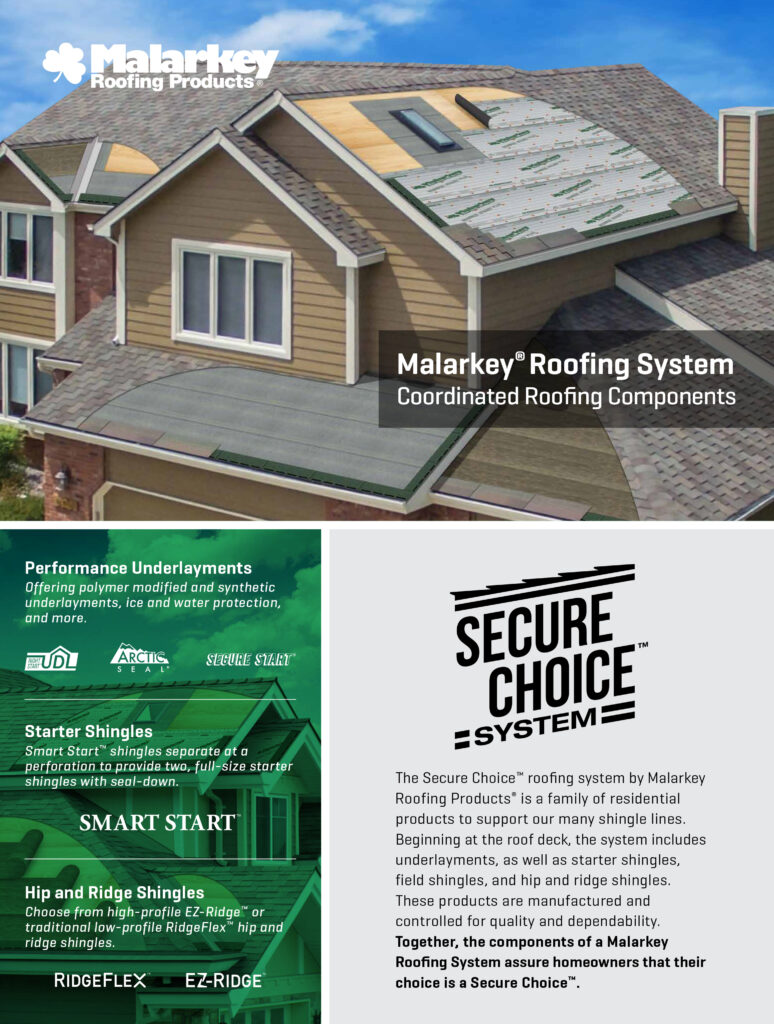 The Secure Choice™ roof system by Malarkey Roofing Products® is a family of residential products to support our many shingle lines. Beginning at the roof deck, the system includes underlayments, as well as starter shingles, field shingles, and hip and ridge shingles. 
These products are manufactured and controlled for quality and dependability. Together, the components of the roofing system assure homeowners that their choice is a Secure Choice™.
Learn about the different products that are part of the Secure Choice™ roofing system by clicking on one of the numbers.
5 performance advantages of Malarkey impact resistant shingles
1. Engineered Shingle Design
 Wide 1.25-inch nail zone reduce chances for high or low nailing
 Tapered shim underside of common bond for best lay flat
 Five beads of rubber adhesive with two beads at common bond & three beads at  dragon tooth to better laminate the shingle
Wide backside rubber sealant with rain flow channel
2. Algae Resistant with Copper Coated Granules

Highlander NEX AR has 10 yr. algae warranty 
Vista AR has 12 yr. algae resistance warranty 
Legacy, Windsor, and Ridgelex Hip & Ridge have lifetime warranty
3. Published Weights and Full Square Coverage

Highlander NEX AR is 210 lbs./sq. and 100 sf coverage 
Vista AR is 225 lbs./sq. and 100 sf coverage 
Legacy is 275 lbs. /sq. and 100 sf coverage 
Windsor is 350 lbs./sq. and 100 sf coverage
4. Polymer Modified Asphalt Instead of Rigid Oxidized Asphalt
Superior granule adhesion – locked into rubber pockets

Very few "hitchhikers" on shingle versus others 
65% better adhesion than the ASTM standard  

Install in cold weather below freezing 
UL Impact ratings with all Malarkey shingles for the Midwest

Highlander NEX AR Class 2 impact rating = 1.5-inch steel ball dropped  from 14 feet 12 times with no crack on back 
Vista AR Class 3 impact rating = 1.75-inch steel ball dropped from 17 feet 12 times with no crack on back
Legacy, Windsor, and all Ridgeflex Hip and Ridge Shingles are Class 4  rated = 2-inch steel ball dropped from 20 feet 12 times with no crack on  back 
5. Sustainable Advantages for the Environment

Smog reducing granules help clean the air (30 sq. roof = 2 to 3 trees in yard) b. Upcycled polymers provide landfill reduction (30 square roof saves 5 tires &  2,000 water bottles)  
Longer lasting shingles due to Polymer Modified Asphalt 
Green manufacturing process and certifications